You are here
Kate O'Connor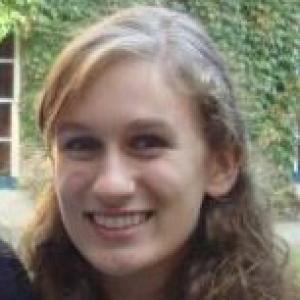 Academic Position:
Graduate
Research Interests:
Early Modern Drama 1500-1700
Kate O'Connor is currently pursuing her M.St. in English Literature 1550-1700 at Lincoln College, University of Oxford. She focuses on early modern drama, and her dissertation deals with stage devils' use of legal strategies. In 2009 she co-founded the student theatre production company Barbarian Productions, with whom she directed a production of Shakespeare's The Two Gentlemen of Verona. Kate holds a BA in English from Stanford University in English with a minor in Political Science. As an undergraduate, she worked as the research assistant to Professor David Riggs and as a Literary Intern for the Oregon Shakespeare Festival.
Recent Publications
No recent publications to show.
| # | Essay Title | Description | Contributor |
| --- | --- | --- | --- |
| 1 | The Curious Life of F. Scott Fitzgerald | F. Scott Fitzgerald (1896-... | Kate O'Connor |
| 2 | Lost Generation | World War I, originally called the Great War, resulted in more than nine million deaths. The... | Kate O'Connor |
| 3 | English Renaissance Timeline: Some Historical and Cultural Dates | This list offers an overview of some historical and cultural dates from the English Renaissance... | Kate O'Connor |
| 4 | Thomas Kyd: An English Tragedy | Very little is known about the life of Renaissance playwright... | Kate O'Connor |
| 5 | Notions of Authorship | This essay offers suggestions for how material on the Great Writers Inspire site can be used... | Kate O'Connor |
| 6 | What is Literature, and Why Does It Matter? | With the latest financial crisis came budget cuts, and with budget cuts came questions - why... | Kate O'Connor |
| 7 | Approaching Political Literature | This essay offers suggestions for how material on the Great Writers Inspire site can be used... | Kate O'Connor |
| 8 | Feminist Approaches to Literature | This essay offers a very basic introduction to feminist literary theory, and a compendium of... | Kate O'Connor |
| 9 | Economic and Social Literary Criticism | This essay offers suggestions for how material on the Great Writers Inspire site can be used... | Kate O'Connor |
| 10 | Questions of Genre | This essay offers suggestions for how material on the Great Writers Inspire site can be used as... | Kate O'Connor |
| 11 | The Importance of Being Wilde | "To live is the rarest thing in the world. Most people exist, that is all" ... | Kate O'Connor |
| 12 | Aphra Behn | Aphra Behn (1640-1689) was a bold, salacious, and pioneering individual. If Frances Burney made... | Kate O'Connor |
| 13 | Jonathan Swift and 'Gulliver's Travels' | This essay is the second of two distilled from a lecture series on Jonathan Swift given by... | Abigail Williams, Kate O'Connor |
| 14 | Aphra Behn and Poetic Culture | This essay is the last of four distilled from a lecture series on Aphra Behn given by Dr.... | Abigail Williams, Kate O'Connor |
| 15 | Aphra Behn and Political Culture | This essay is the third of four distilled from a lecture series on Aphra Behn given by Dr.... | Abigail Williams, Kate O'Connor |
| 16 | Aphra Behn and the Restoration Theatre | This essay is the second of four distilled from a lecture series on Aphra Behn given by Dr.... | Abigail Williams, Kate O'Connor |
| 17 | The Anonymous Jane Austen | Jane Austen (1775-1817) is one of the most famous authors in the western canon (possibly helped... | Kate O'Connor |
| 18 | Why Shakespeare Was Shakespeare | Since the release of the film 'Anonymous' in 2011, the odds have increased dramatically of being... | Kate O'Connor |
| 19 | A Short Literary History of Vampires | You've heard of Twilight. You may have read Twilight. Try as you might, you... | Kate O'Connor |
| 20 | Jonathan Swift and 'A Tale of a Tub' | This essay is the first of two distilled from a lecture series on Jonathan Swift given by Dr... | Abigail Williams, Kate O'Connor |
| 21 | Who is Aphra Behn? | This essay is the first of four distilled from a lecture series on Aphra Behn given by... | Abigail Williams, Kate O'Connor |
| 22 | Elizabethan and Jacobean Theatres | Elizabethan and Jacobean London contained a myriad of playhouses, indoors and outdoors. What... | Kate O'Connor |
| 23 | Aphra Behn: A "Life dedicated to Pleasure and Poetry" | Aphra Behn was a bold, salacious, and pioneering individual. If Frances Burney made women... | Kate O'Connor |
| 24 | Thomas Middleton: No Wit, No Help like a Playwright's | During his career Thomas Middleton (1580-1627) produced a pretty spectacular canon of plays:... | Kate O'Connor |
| 25 | Frances Burney: the "Mother of English Fiction" | Before there... | Kate O'Connor |
| 26 | Ben Jonson: Renaissance Playwright, Renaissance Man | Ben Jonson 1572-1637) was an early modern playwright whose popularity rivaled that of... | Kate O'Connor |
| 27 | Who Killed Christopher Marlowe (and Why)? | | Kate O'Connor |
| 28 | Thomas Dekker | ... | Kate O'Connor |
| 29 | John Webster: A Darker Playwright for Renaissance England | In the 1998 film Shakespeare in Love, a young boy seen feeding a live mouse to a cat... | Kate O'Connor |