You are here
Peter D McDonald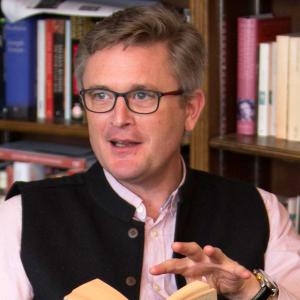 Academic Position:
Professor of English and Related Literature and Tutorial Fellow
Research Interests:
19th/20th/ 21st Century; the socio-political space of literary production (c. 1880-present)
Peter D. McDonald is Professor of English and Related Literature at the University of Oxford and a Fellow of St Hugh's College. He writes on literature, the modern state and the freedom of expression; the history of writing systems, cultural institutions and publishing; multilingualism, translation and interculturality; and on the promise of creative criticism. His principal publications include British Literary Culture and Publishing Practice, 1880-1914 (Cambridge, 1997), Making Meaning: 'Printers of the Mind' and Other Essays by D F McKenzie, co-edited with Michael Suarez (University of Massachusetts Press, 2002), The Literature Police: Apartheid Censorship and its Cultural Consequences (Oxford, 2009, see also theliteraturepolice.com), and Artefacts of Writing: Ideas of the State and Communities of Letters from Matthew Arnold to Xu Bing (Oxford, 2017; see also artefactsofwriting.com).
Recent Publications
'On Strong Opinions: celebrity authors in the contemporary agora', Celebrity Studies, 8:1 (2017).

'Coetzee's Critique of Language', Beyond the Ancient Quarrel: Literature, Philosophy, and J. M. Coetzee, eds. Patrick Hayes and Jan Wilm (Oxford, 2018).

'Seeing through the Concept of World Literature', Journal of World Literature, 4.1 (2019).

'Beyond Professionalism: The Pasts and Futures of Creative Criticism', The Critic as Amateur, eds. Saikat Majumdar and Aarthi Vadde, (Bloomsbury, 2019).

'L'Engagement de PEN en faveur des droits linguistiques', interview with Carles Torner, Bibliodiversity, eds. Nathalie Carré and Raphaël Thierry (January 2020).

'What about criticism?: Blanchot's Giant-Windmill', Literary Activism: A Symposium, ed. Amit Chaudhuri (Norwich: Boiler House Press, 2017), and OUP India, 2018.